Playright Music Ltd.
Piano Lessons Dublin
Piano Lessons | Piano Teacher | Piano Consultancy (Advice)
Based in North-City Near DCU, M50: J4 & J5
Serving Dublin 7, 9, 11, North County Dublin, and Co Meath
Many students come to us for dynamic piano lessons which are based primarily on the life-enhancing benefits of engaging in fluent musical expression. If you wish to prove your attainments with examinations, when appropriate, we will guide you well.

Ideally, prospective students should have a good piano that is tuned regulary at home for practicing, or be willing to purchase one subsequent to commencement of lessons.

If you do not have a piano, or access to a piano, it may be possible to practice on a digital piano or digital keyboard – while it is not quite the same as an acoustic piano, it may be better to start on a good digital instrument rather than a poor acoustic one.

If you do not have a good piano to start with, perhaps starting on recorder or other instrument would be something to discuss with us.

Young Children become Fluent in Music as Easily as in Language
(with Proper Guidance)

It is important that musical learning develops evenly across all areas of music: performance, literacy, and musical knowledge.


---
Piano Lessons for Very Young Beginners
(Piano Lessons Kids)
We teach children from four years of age, provided the parents are 'active-observers' at the lessons and willing to support continuous development at home, for example, by repeating the lessons each day. Teaching kids younger than six years requires a different approach that includes more parental involvement and a playful atmosphere. At this age, children are acquiring language skills and they achieve fluency in their native language very quickly with little effort. Similar gains can be made in music. Many famous musicians started learning at such a young age. Starting younger than six provides a wonderful foundation for learning in the future. An early start supports progress in music and also has benefits that seem to reach out to learning in general - not only in music.
We can discuss this further when we meet.

"Recommended Highly!" (Click to see testimonial in full)
Q. Li, mother of Adam (5), Finglas, Dublin 11

Tell Me More About Piano Lessons for Very Young Children
---
Piano Lessons for Children Over Six
(Piano Classes Children)
For children who are around six years or older and who can learn independtly of their parents, we offer Introduction to the Piano (click for more info) classes for children aged 6 to 14. Beginners are introduced to the elements of music through an experience-based approach centred on the Kodály concept of music education. Literacy is achieved effortlessly and progress is encouraged and supported at the learning speed of each individual.

Blue-Jay, our child-friendly mascot who loves music, lives here. He is always excited to tell you about our piano classes for children.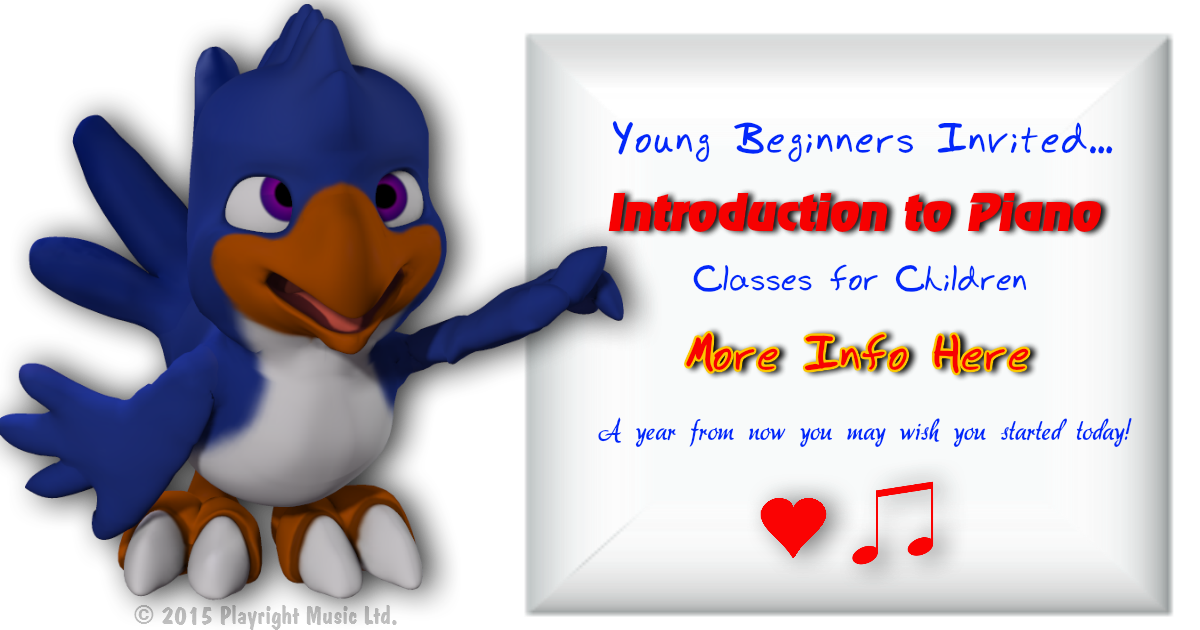 "Great Experience for Kids!"
N. Ryan, mother of Ciaran (9) and Adam (6), Collins Avenue, Dublin 9

"Encouraging, Positive and Supportive Approach"
C. Kelly, mother of Aoife (9), Glasnevin, Dublin 9

"Funny, Welcoming, Encouraging!"
Emma Wang (12), Ballymun, Dublin 11

---
The best thing you can do to help your child
get an A in Junior Cert Music in 3 to 5 years time
Children who do well in music exams usually start learning when they are young. Line up your child to do well in the State Examinations by arranging music lessons now. With us, you will benefit from a solid training which will help you in the practical performance exam AND provide a headstart in musicianship - the knowledge that helps you do well in the written exam. Our uniqueness rests in developing musicianship within instrumental lessons.

If you would like to know more, call us today and we will include you in our meetings list during our next Information Day.

Join the smart people who think ahead... five year plans and ten year plans are not only for business people. Enjoy the present as you prepare for the future, today.
And consider how engaging in musical activity is life-enhancing.


---
Piano Lessons for Teenagers,
Adult Beginners and Improvers
(Piano Lessons Adults)
Adult beginners are welcome to start or even refresh knowledge from younger years. It is never too late to enjoy playing music. When you contact us, please outline your expectations and any previous experience you may have. We will meet you soon and discuss your requirements and how we can help you learn music and its performance.

"Best Piano Teacher!"
Orla Ma (13), Beaumont, Dublin 9

Request Info About Piano Lessons for Adult Beginners
---
Piano Lessons for Developing Music Students
and Aspiring Professionals
Intermediate and advanced students are encouraged to memorise a wide repertoire and to build the skills, techniques, tone production and stylistic interpretation that are appropriate for their repertoire. We prepare for examinations, but our main focus is to foster intelligent musicianship in performers who will communicate emotional and spiritual insights in their playing. We would be delighted to discuss this further with you when we meet!

"Extremely Impressed!"
C. Kilgarriff, mother of Saoirse (18), Swords, Co Dublin

Request Info About Piano Lessons for Inter and Advanced Students
---
Piano Coaching for
Advanced Students and Performers
(Advanced Piano Lessons)
Music students who are proficient and preparing new music may require guidance in their preparation: setting targets and pacing progress; performing with informed style and expression; with communicating the deeper meaning of the music to your audience. Perhaps you may want guidance from an informed listener.

If you are preparing for a special performance, academic examination, external diploma or competition, contact us for either a course of lessons or for occasional lessons as will best meet your requirements.

A listing of all the music subjects we offer is available here.

If you wish to pursue a course of piano lessons, contact us to request a meeting (or audition).
Request More Info About Piano Coaching Today
---
Skype Piano Lessons

|

Online Piano Lessons
Skype Piano Teacher
Many of our local students travel quite a distance to our face-to-face lessons. As part of our digital outreach initiative for students wishing to study with us from further afield, one-to-one piano tuition is available by pre-booked appointments via Skype. Please contact us for details and/or to arrange an initial call to establish that the connection will work well. While we welcome enquiries from all over the world, please note we are based in Dublin, Ireland (Western Europe): all lessons are in 'English (UK)' and fees are commensurate with our costs locally. Our Skype piano teachers are highly trained and have qualified with at least a Masters degree in music. When you request more info, please include your Skype name in the comments.

Testimonial Creation Form
Be the first to create a testimonial about our online piano lessons!

Request More Info About Skype Piano Lessons
---
Have you seen our page listing music books for piano students?

We have a helpful hint about how to improve sight reading at the piano here.